"Some moments are nice, some are nicer, some are worth writing about." – Charles Bukowski
Day 1: Vibrant Clarke Quay
On a young summer evening in July, we alighted in the city-state of Singapore and checked into a room 14sq. metres (just!) in size, at the Porcelain Hotel, Chinatown.

Tip: clean, cozy rooms suitable for travellers.
We strutted through this cosmopolitan's centre, a few blocks away from the hotel, to an area popularly known as Clarke Quay.

It was all razzle dazzle! Street performers near restaurants lining the avenue, risk-taking bungee jumpers, scenic ferry cruises, multicuisine riverfront dining, a procession of energetic club-goers, and in all, by the looks of it, a typical Friday night.
All we did was settle into a cafe and watch this extravagant display.
Day 2: Touring Sentosa Island
'fore noon our backpacks were ready and we steered in the direction of Sentosa, the island-resort that was oh, so full of surprises! We were also almost in time for SG50, the golden jubilee celebration of Singapore's independence.

We gamboled in the reflection of the afternoon sun to places of our interest – the S.E.A Aquarium displaying more than a hundred varieties of aquatic life, entertaining Luge and Sky rides, the thrilling parajumping arena and a feisty game of Combat-Skirmish in Fort Siloso.

Special mention to the spectacular exhibition of Wings of Time. The dazzling fireworks and the synchronization of lights and sounds sure left us electrified.

Day 3: Idolizing the Arsenal FC, National Stadium

Trouvaille: a lucky find.
We were indeed fortunate in spotting the breakfast eatery, Nanyang Old Coffee House. They served us heaven on a plate (and cup!) – ciabatta with the freshest strawberry jam and marmalade, Kaya buttered toasts, a dose of Mee Siam and the local, traditional Kopi and Teh – coffee and tea

Then, it so happened that we couldn't pass up a sudden but therapeutic session of street shopping in Bugis. Of course!
What do you get when you say Arsenal? Us!
Our love for this – the greatest – football club has transcended time and space, and which, evidently, took us 3000 odd miles to watch them play.

We bestowed the indoor National Stadium full credibility for being so awesome that evening.

Later, we had a meal at a resto-takeaway point called My Grandma's Place, a few blocks away from the Singapore River.
Day 4: Strolling in Marina Bay Sands
On our final day in this felicitous city, we did a brunch with friends by visiting them at Singapore's Tiong Bahru district, an eclectic downtown area.
We soon said our goodbyes and headed off to the most superlative part of town, Bayfront Ave. Marina Bay Sands: whatever we say of this state-of-the-art construction would be too little.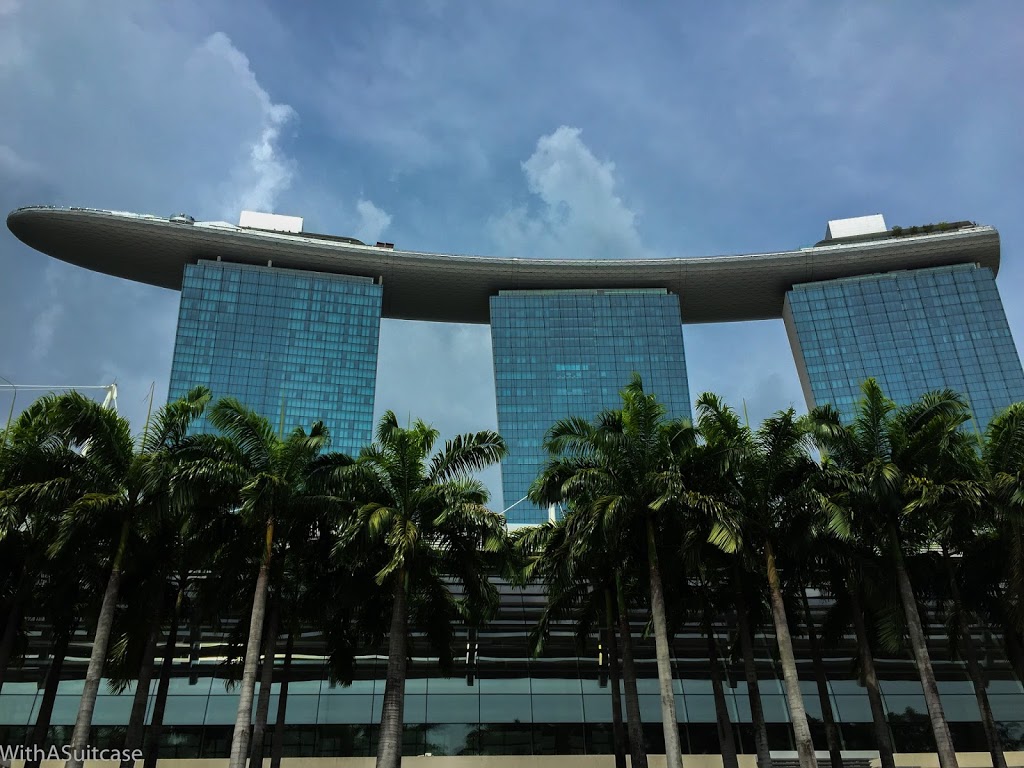 The rooftop added yet another dimension to this fantastic hotel-casino-mall. We ambled as if in a cockaigne, getting a glimpse of the Singapore flyer.

While exploring the vagaries of Singapore, most instances left us numinous; a reverie almost unbreakable till date.