"Wheresoever you go, go with all your heart."
Hello! We're Meg and Nik — partners in travel and life.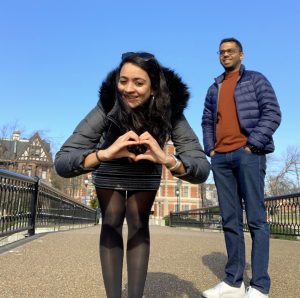 Meg is a postgraduate in the biosciences, currently a scientific communications specialist and a medical podcast host, an advocate for children's education, and believer of miracles. Nik is a computer science engineer working in health tech who is in a tryst with the complexities of coffee and will choose a game of football (ie, soccer) over most things in life.
We couldn't be more unlike each other if we tried — or so we thought! When we met in 2012 in India, it felt like the pieces of a puzzle came together. We almost instantly discovered our shared love for travel, storytelling, and photography. Thus, With A Suitcase — named for our signature travel style — was born!
So yes, we both work full time, freelance, volunteer for causes that we advocate for, AND travel! And yes, it's definitely possible, with a healthy mix of planning and managing time and resources.
Our travel personality has evolved over the last decade but it has always been a testament to our way of life: active yet easy going and relaxed; indulgent yet sustainable for the most part. While we do our fair share of checking off lists, we also take the road less traveled. Oh hey, we're on our way to visiting all the states in the US (currently 34/50) and India (currently 11/29).
We often get asked: beach or mountains? cities or the countryside? shopping or museums? summer or winter destinations? spas or hikes? We say: BOTH; we say: ALL!
However, our goal for the next few years is slow, meaningful, and sustainable travel.
——
Stop by and say hi! We'd love to hear from you: withasuitcase@gmail.com OR Instagram.