A whim landed us in the state of Wisconsin.
Situated by two of the Great Lakes (Michigan and Superior) and renowned for its plentitude of dairies and farmland, we were welcomed with pleasant weather on entering this Midwestern land.
Madison
We flew into Chicago and then drove about 150 miles north into the state capital, Madison, WI, under a sky mottled with clouds.
We rented bikes at Madison BCycle and instantly took to exploring the town's little pockets and the beautiful waterfront neighborhood around Yahara Park Place. We flowed in and out of surreal views of Lake Mendota for what seemed like hours but was, in fact, just under one!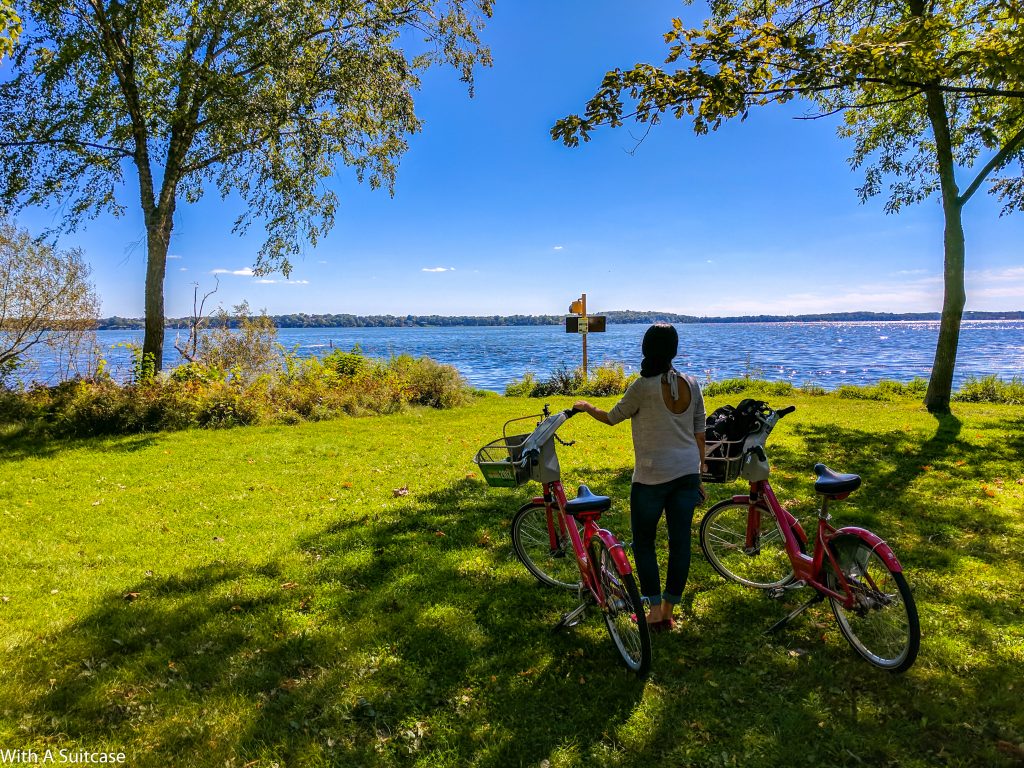 The light turned a lustrous gold as we swung by the Capitol building, situated on the isthmus of Madison.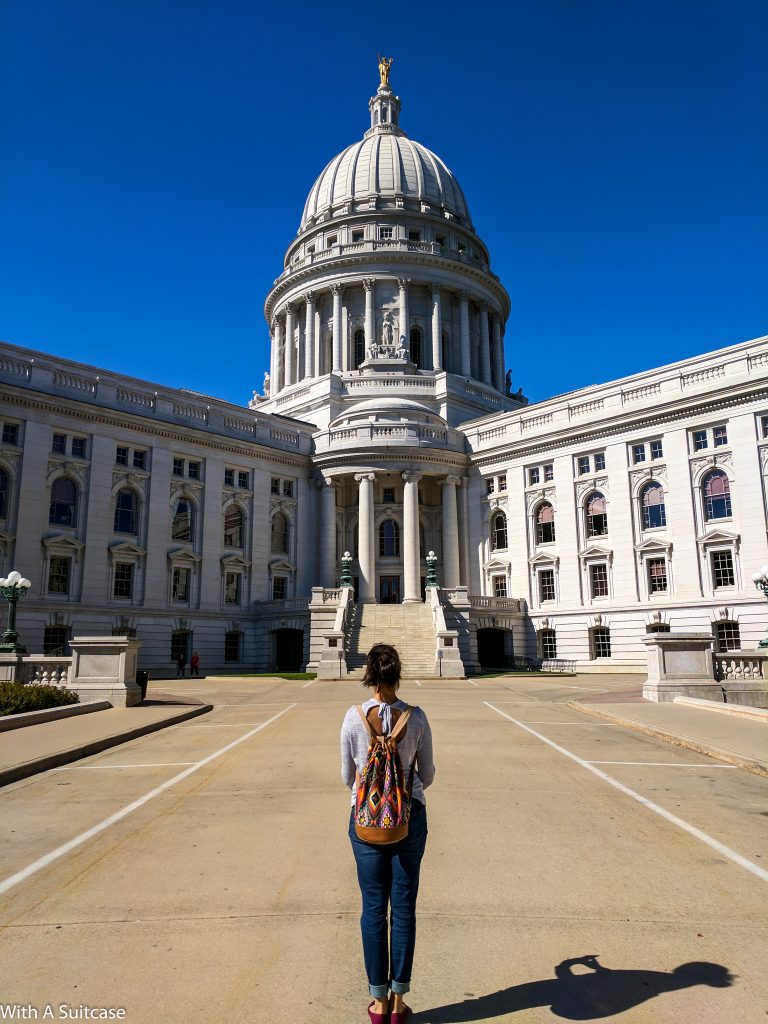 Small bistros dotted the streets, food carts (all hail the one with Tibetan momos!) scattered hither-thither, and florists with their brightly hued carnations; street art and the patios of pubs with their best beers and cheeses added to the festivities of this regular Friday afternoon.
This lured us into The Old Fashioned. A retro, Wisconsin-themed restaurant that served delicious cheese curds and dips, all state-sourced, and local beers (read Pabsts) to accompany.
We were promised sweeping vistas of Lake Monona, the other freshwater lake that drains into Wisconsin, at Monona Terrace. Safe to say, we lingered more than a while to just ruminate and take in the panoramic sight.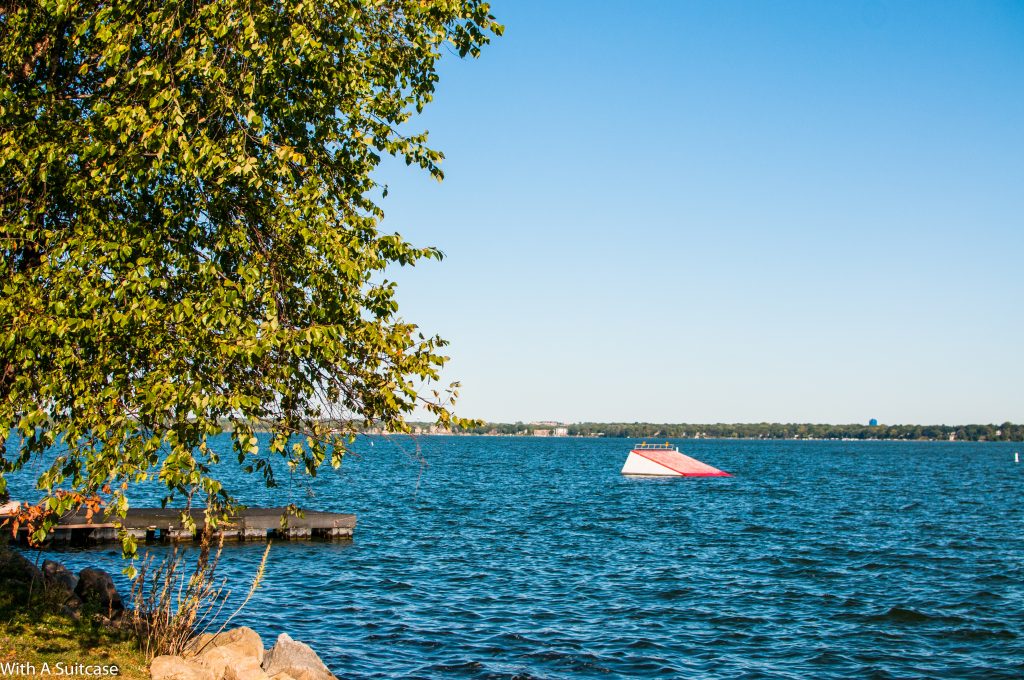 The radiating roads climbed steadily by the University of Wisconsin, Madison. We chanced upon the Allen Centennial Garden, a living laboratory and public botanical garden, and learned that it was, in fact, designed for the first dean of UW.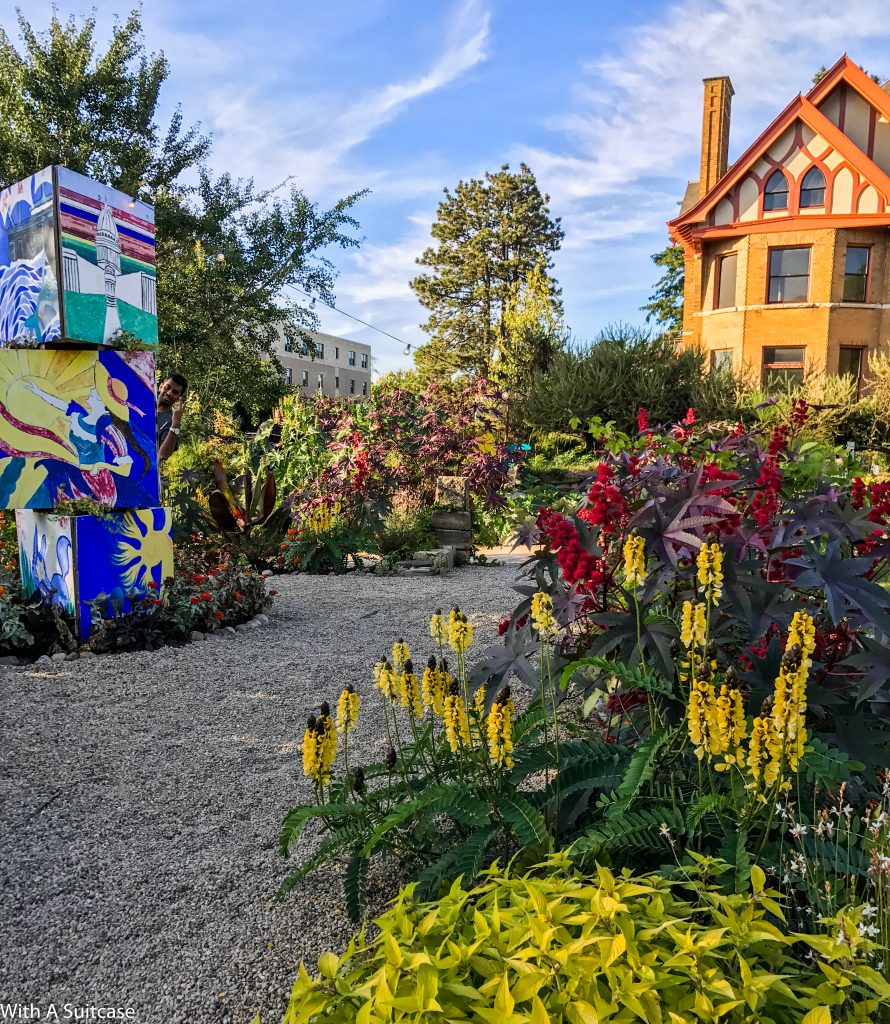 We walked through the "museum" of plants, oases of greenery on either side. Arrays of flower beds in a dazzling display, shade trees stretched out on supernaturally green lawns, bewilderingly contrasting art installations, and graceful bridges rising above and connecting us to these pieces of work. It was indeed a marvelous world to revel in.
Door County
"So glad we live in a world where there are Octobers."
Autumn in Door County, which is situated in the northern part of the state and on a peninsula near Lake Michigan, was, literally, a place full of poetic references.
Cave Point County Park, we were told, offered expansive views on and beyond Sturgeon Bay's shoreline. The clouds growled portentously. On reaching the park, we traipsed through a wooded area and were left standing on large but crumbly rocks, a series underground caves hidden from plain sight.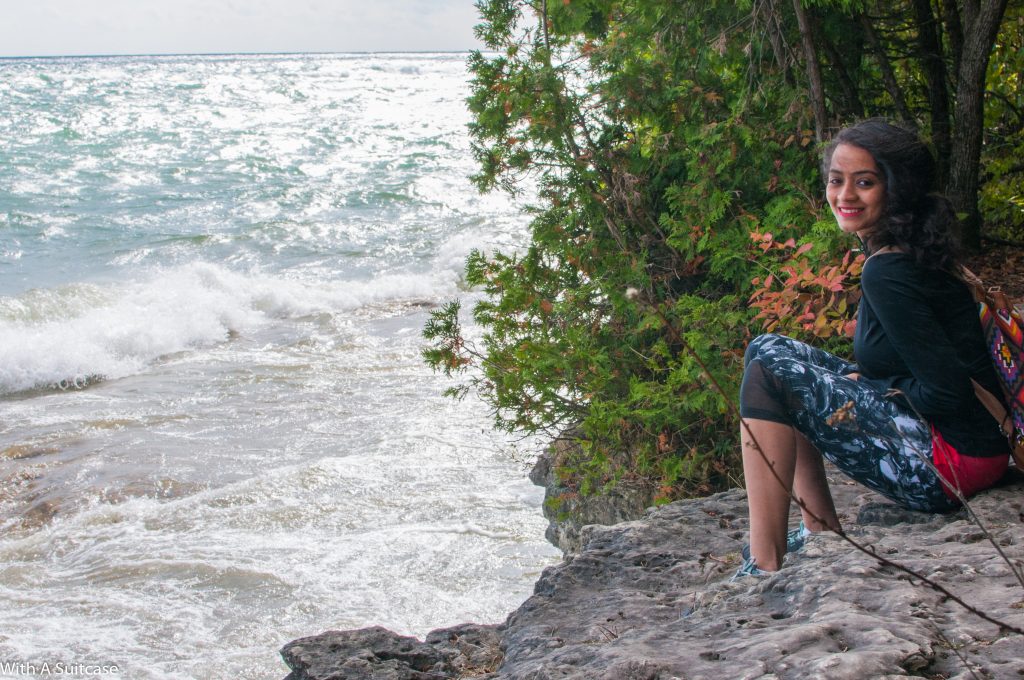 Irascible waves pounded the dolomite bluffs and the air around us came alive with the howling winds. Fine plumes of condensation hovered constantly, and then all at once, the turbulent waters smattered on the rocks below our feet.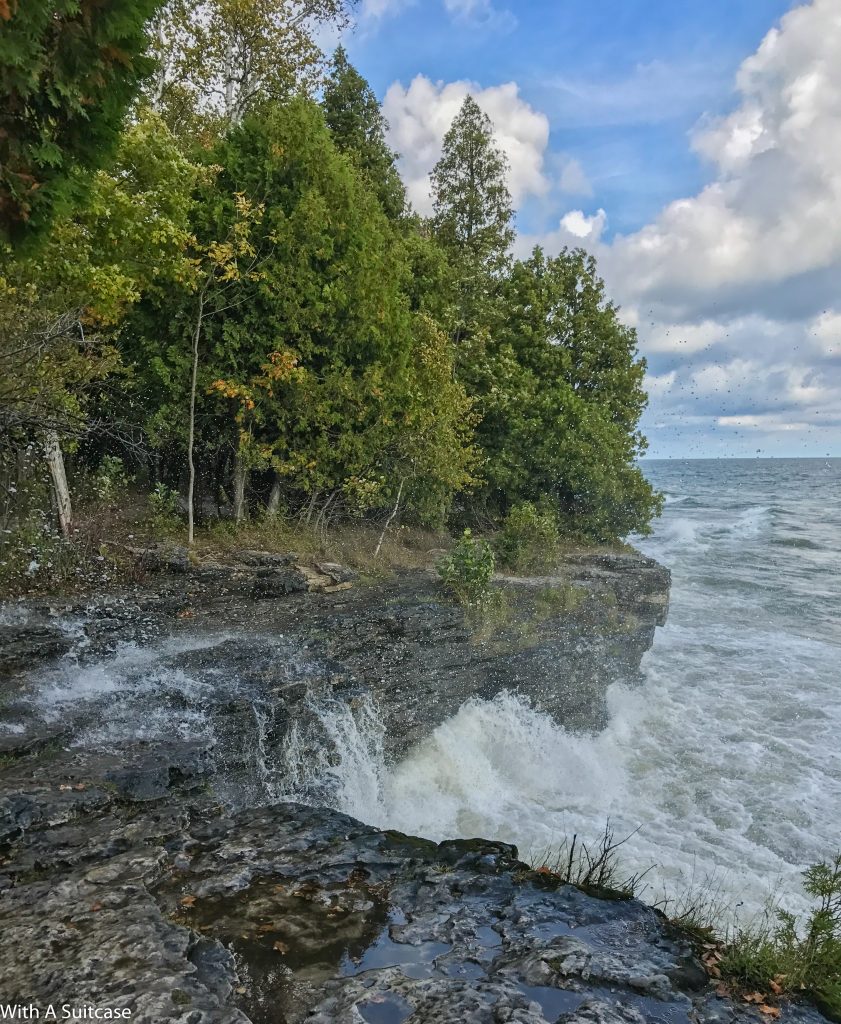 There was also a little beach at the end of the trail where we stacked some pebbles, took pictures against the melodramatic backdrop, and ate our lunches.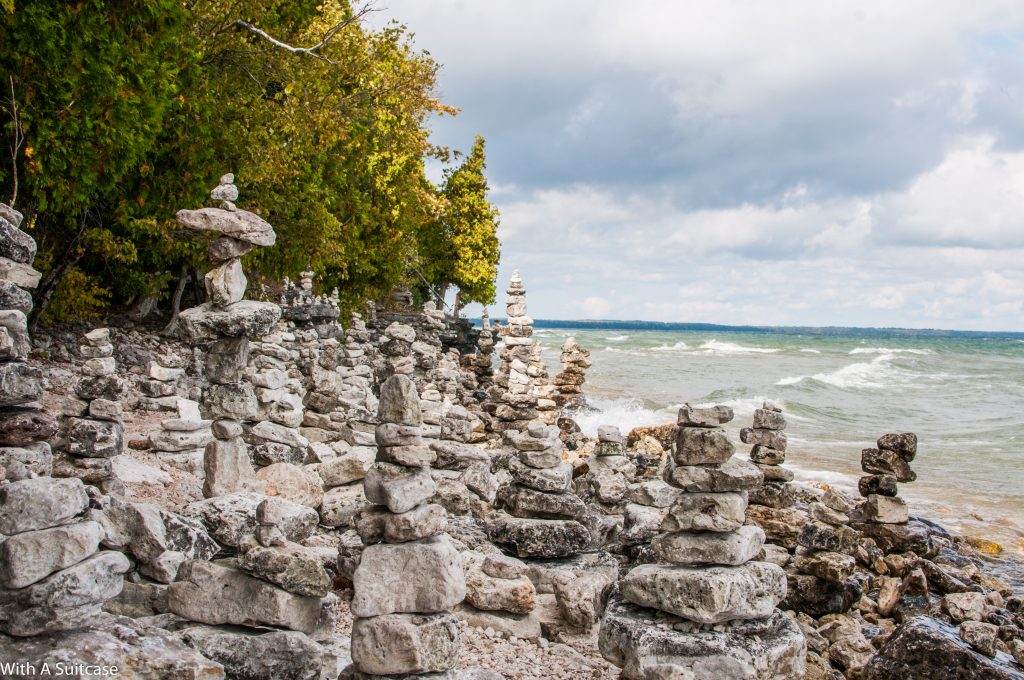 Then, we drove to Baileys Harbor, one of the state's "best kept secrets", where we found a certain stillness in our hearts. The seascape stretched out into the infinity, the light scattered across the horizon, and took with it, our thoughts.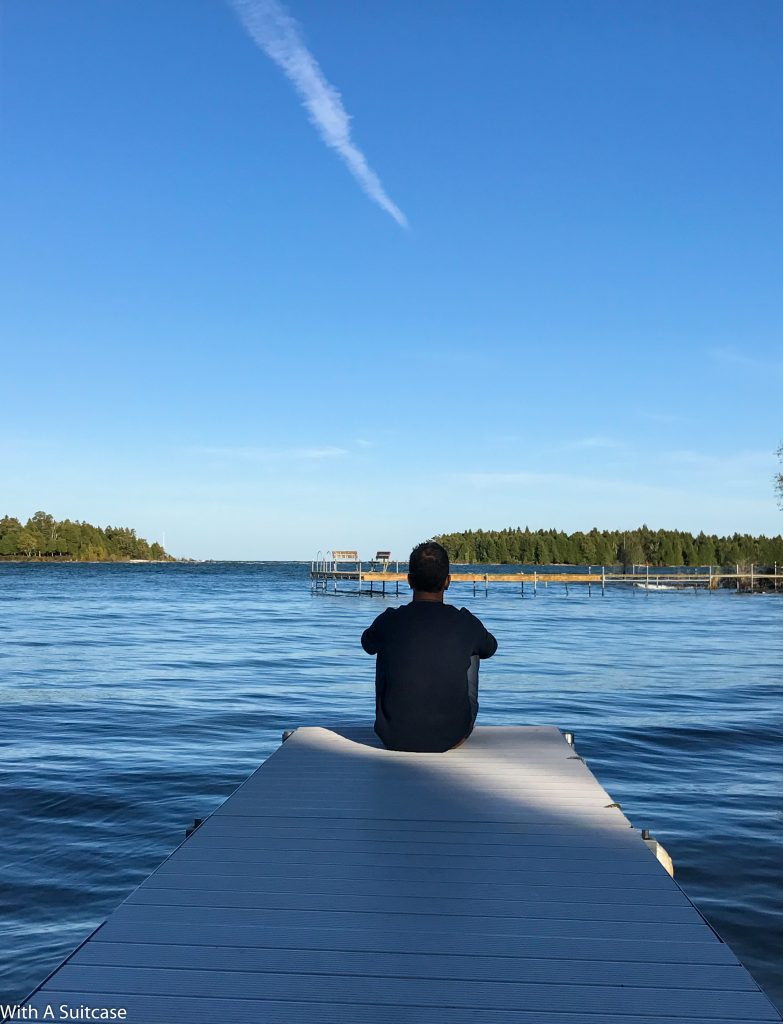 Milwaukee
Wisconsin's largest city is Milwaukee, and this was also our next stop – the luxurious, Ambassador Hotel, set in downtown.
A fat Sunday brunch later, we wandered into the Mitchell Park Conservatory, and it was like entering a whole new world. The Tropical Dome that consisted of the microcosm of a rainforest, the "Desert" that was filled with geometrical palms and cactuses, and the other bubble was a cosmos of horticulture, blossoming flowers, giant fruits, medicinal plants and such.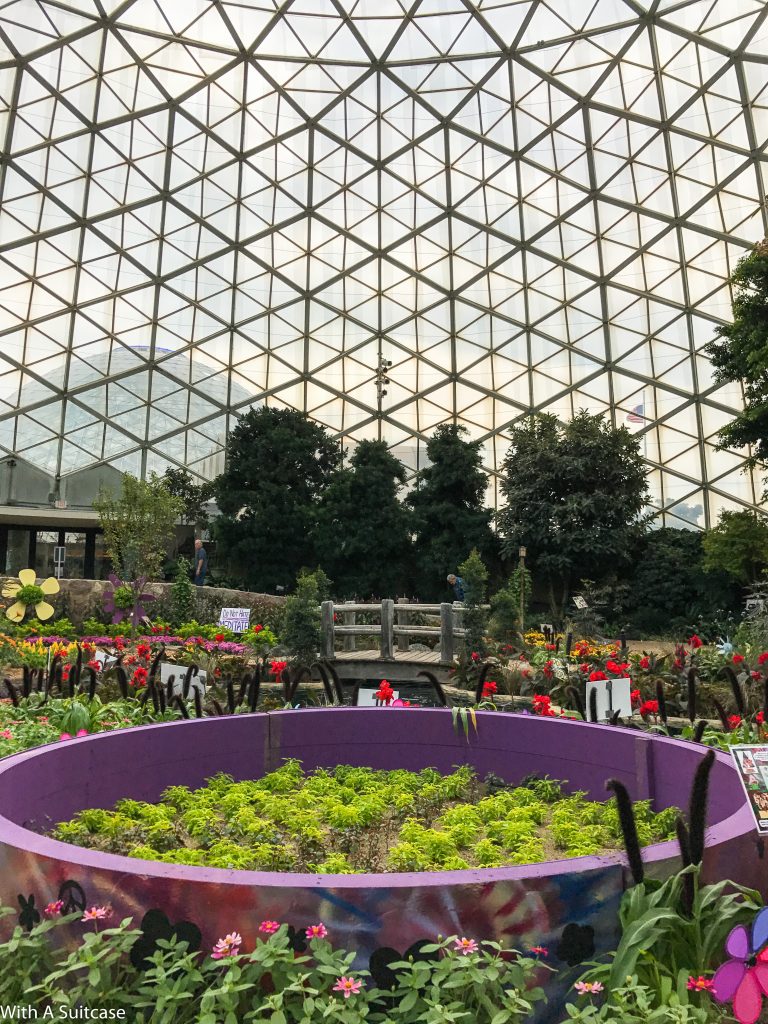 We left there, senses refreshed, and ready to take on a cheese-making tour at an urban factory called Clock Shadow Creamery in the Walker's Point neighborhood. The process was seemingly simple yet the cheeses were the freshest, creamiest and most delectable we'd ever tasted! (Try: Menonita with Habanero & Jalapeno cheese or the Scorpion Pepper Cheddar).
With a walk on the curving McKinley Beach, to neutralize the sedating effect of all the cheeses, and a whiz past the elegant homes of the Northpoint neighborhood, our felicitous adventure to this beautiful destination came to a close.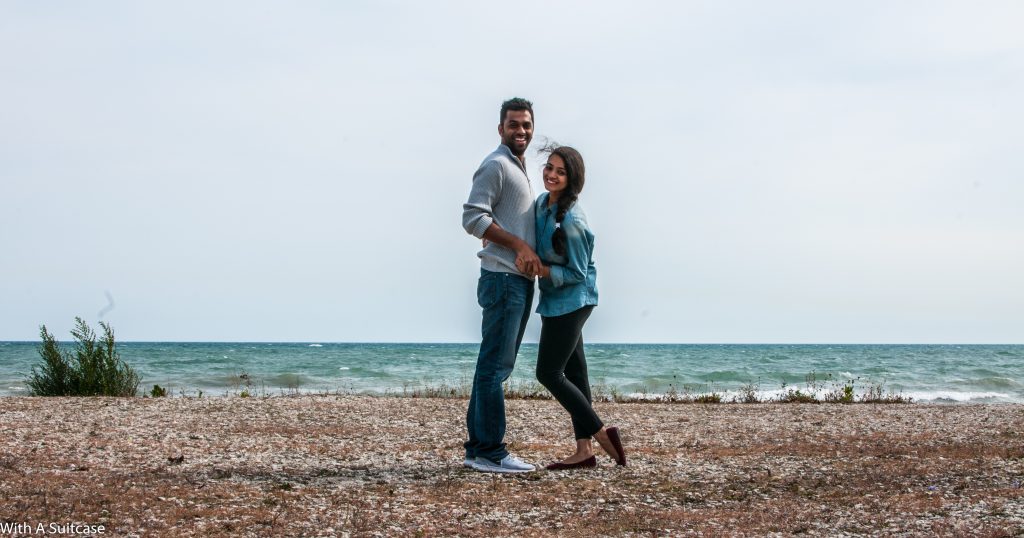 WaS Tips:
Autumn is a good time to visit but the region around Lake Michigan can get incredibly windy and chilly, especially after sunset.
Looking for a quiet, offbeat place to unwind in Door County? Go to the local beach in Ephraim, a tiny village, with just a few hundred residents, and tranquil beaches.
Buy local cheeses, avoiding the packaged kind, from a choice of dairies across the state.